Massage Therapy at Fourth Avenue Chiropractic & Wellness
Whether you're seeking pain relief, relaxation or stress reduction, massage therapy can benefit you! This natural modality is appropriate for patients of all ages. Massage therapy is the manipulation of the body's soft tissue (i.e., the skin, muscles, fascia, tendons and ligaments) using a variety of techniques.
Key Benefits of Massage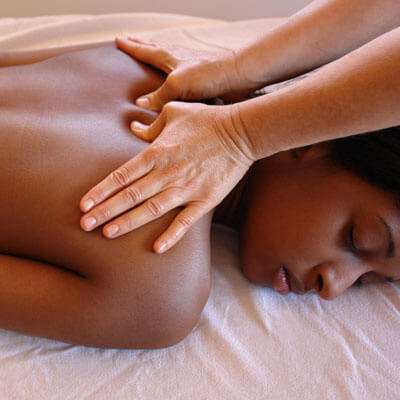 Here are some of the most common benefits that you may experience after a session with one of our Licensed Massage Therapists:
Relaxation
Improved circulation
Reduced stress
Decreased blood pressure
Improved muscle and joint function
Reduced joint and muscle pain
Can help heal injured muscles and other soft tissue
Improved flexibility
Improved immune system
Decreased inflammation
Reduced headache pain or frequency
How Massage and Chiropractic Complement Each Other
Massage therapy works hand-in-hand with chiropractic care by decreasing the muscle tension in the areas of the body that are affected. When massage is given before an adjustment, the areas of the spine that need to be adjusted are able to move more freely. Following the adjustment, massage can reduce any inflammation and help facilitate the recovery process.
Our LMT and Their Specialties
A 2012 graduate of Inland Massage Institute, Laura is particularly passionate about providing medical massage. She offers the following types of massage and modalities:

Body Rocking
Deep Tissue
Rock Taping
?Myofascial Release
Cupping ?IASTM
Strain/Counter Strain
Table Thai- Stretch
Scalp Work – Headaches
Sports
Pin and Stretch – PNS
?Cross Fiber Friction ?PNF
Traction
Lori specializes in the rehabilitation of traumatic injuries, correction of postural misalignment and the treatment of chronic muscular pain. She provides the following massage methods:

Craniosacral
IASTM
Deep Tissue
Myofascial Cupping
PNF- Proprioceptive Nerve Facilitation
PNS- Pin and Stretch ?Strain/Counter Strain
Pregnancy ?Myofascial Release
Energy Work
Rachel received her education at The American Institute for Clinical Massage Therapy in Post Falls and The Wellness Education Center in Spokane. She offers the following types of massage and therapies:

Hot Stone
Cupping
Sports
Deep Tissue
Lomi Lomi
?Assisted Stretching
Thai ?Lymphatic Drainage
Craniosacral ?Trigger Point

For more information about our therapists please see our Meet the Team page.
FAQ
We recommend massage to everyone. The human body needs physical touch, and when that touch is healing, it's even better.
Do I need to undress completely for my session?
It's up to you. You can choose to do so or you can leave your underwear on. You always will be appropriately draped throughout your massage.
What should I do to prepare for my massage appointment?
Before getting a massage, you should be well hydrated. If you've just had a workout, please shower.
If I feel sick should I cancel my massage session?
It's advised that if you have a cough or a fever to call ahead of time. Rescheduling a massage, when experiencing symptoms of illness, is always the smart move.
---
Massage Therapy Spokane WA | (509) 624-5855